Mima Mounds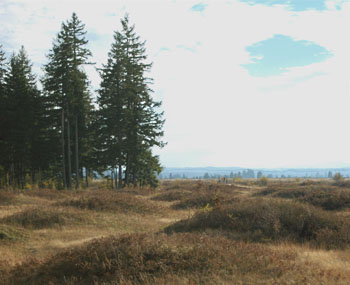 The Site
Mima Mounds Natural Area Preserve is a national natural landmark and is managed by the Washington Department of Natural Resources. It is 640 acres, containing approximately 370 acres of mounded prairie. At 200 feet above sea level, the area's marine-influenced climate is mild, with warm, dry summers and cool but generally snow-free winters. Cloudy or rainy days tend to outnumber sunny ones during winter, spring, and fall. The grassland at Mima Mounds Preserve is native glacial outwash prairie, a globally rare community. The prairie is dominated by Roemer's fescue, and includes a variety of forbs including camas, spring gold, lupine, strawberry, and blue violet. Regionally rare butterflies such as the valley silverspot and great spangled fritillary are common in summer. Hoary elfins frequent the kinnikinnick patches. Managers have used a variety of techniques to reduce the cover of invasive Scot's broom and maintain a native prairie community.
The Birds
Species seen on the prairie and in shrubby habitats include Savannah, Vesper, and White-crowned Sparrows, Common Yellowthroat, Western Bluebird, Western Meadowlark, Mourning Dove, Barn, Violet-green, and Tree Swallows, Common Nighthawk, Northern Harrier, American Kestrel, and White-tailed Kite. Birds seen in the coniferous and mixed deciduous-coniferous forests adjacent to the prairies are Pacific-slope Flycatcher, Western Wood-Pewee, Black-capped Chickadee, Black-throated Gray Warbler, Warbling Vireo, Winter Wren, Wilson's Warbler, Swainson's Thrush, Hammond's Flycatcher, Western Tanager, Blue and Ruffed Grouse, and Great Horned Owl.
Directions and Suggestions
During late April through May, the mounded prairie is at its peak beauty due to a profusion of flowering prairie forbs. For birders, early morning visits are likely to be most productive. Noise disturbance from other recreational activities, like model planes and the nearby shooting range, can also increase after mid to late morning. There are no fees for access to the Mima Mounds Preserve. The preserve has a half-mile-long paved handicapped-accessible trail and a two-mile loop path. To minimize disturbance of wildlife, dogs are not allowed. An interpretive kiosk provides information on the hypotheses of Mima Mounds' formation. There are vault toilets at the parking lot.

To get to Mima Mounds Natural Area Preserve, take I-5, and exit at #95 (Littlerock-Maytown). Drive west on Maytown Road SW through the small town of Littlerock to a ''T.'' Go right on Waddell Creek Road about a mile to the entry road on left, which leads to the parking area and trailhead.

For more information, contact Pacific Cascade Region 360-577-2025.

References